Mission II: AUTHOR
Harry returned to France in September 1943 to begin a new network codenamed AUTHOR, covering the rural area of the Corrèze in south-western France. Arriving by Lysander aircraft with Yolande Beekman and two other agents, he made his way to Paris as arranged but soon found himself in serious trouble.
Harry's contact, a resistance leader in south-western France called André Grandclément, had just been arrested. Even worse, Grandclément was now working with the Germans to dismantle the local resistance groups. Despite the dangers Harry chose to carry on with his mission, linking up with agent Roger Landes in Bordeaux before travelling alone to Brive-la-Gaillarde in the Corrèze.
Starting from scratch, he called on local businessman Maurice Arnouil, whose Brive premises quickly became the circuit's new HQ. Harry also received help from former policeman Louis Delsanti and the celebrated novelist and adventurer André Malraux. Together they were able to recruit new members, arrange parachute supply drops and begin training the local maquis groups in guerrilla warfare. Two young local resisters, Louis Bertheau and Jean Melon, maintained wireless communications with London from a secluded mill.
In the new year more SOE agents arrived to help, including Cyril Watney and George Hiller, who set up in the neighbouring department of the Lot. Jacques Poirier also parachuted back into France and became Harry's second in command, posing as a British officer known as 'Captain Jack'.
Despite the efforts of Grandclément and the Gestapo, Harry built up a secret army of more than 4000 resistance fighters across the Corrèze and Dordogne, and by March 1944 had begun to seriously harass the local German forces. However, with D-Day approaching he was forced to take even greater risks to meet London's demands.
Peulevé's lieutenant,
Louis Delsanti
(© Musée Henri Queuille)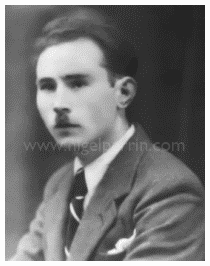 AUTHOR's wireless operator
Louis Bertheau
(© Musée Henri Queuille)